WHO WE ARE
Indivara Group is one of the largest technology investment holding company in ASEAN with significant presences in two of the biggest market; Indonesia and Philippines. Focuses on two big division: Enabler Businesses and Platform businesses.
VISION
To be the most prominent IT Consulting and Platforms provider companies in the region by strategically combining offline-online engagement, implementing strong market penetration, and delivering never-ending innovation in order to bring the ultimate digital experiences to our customers.
MISSION
To inspire our employees to be the best they can be, by engage them in sustainable practices and anticipate the needs of the society. Believing that technology should be the force of good and creating useful innovation should be our passion.
WHY CHOOSE US
Experienced, Regional Presence
You don't need to worry about being overwhelmed by complex processes or complex technology.
LAYING THE FOUNDATION OF SUSTAINABLE TECHNOLOGY GROUP
Focusing In The Rising Middle Class in ASEAN.
Indivara has strong engineering DNA that enable us to innovate, develop and own the intellectual property of the various applications & platform. Combining unique understanding of Enterprise IT needs and proven track record in developing "consumer centric" applications, allow us to uniquely focus in B2B2C model which is critical in ASEAN.
Indivara have proven track record in implementing complex, large scale software projects throughout ASEAN also the First company to receive CMM certification in Indonesia.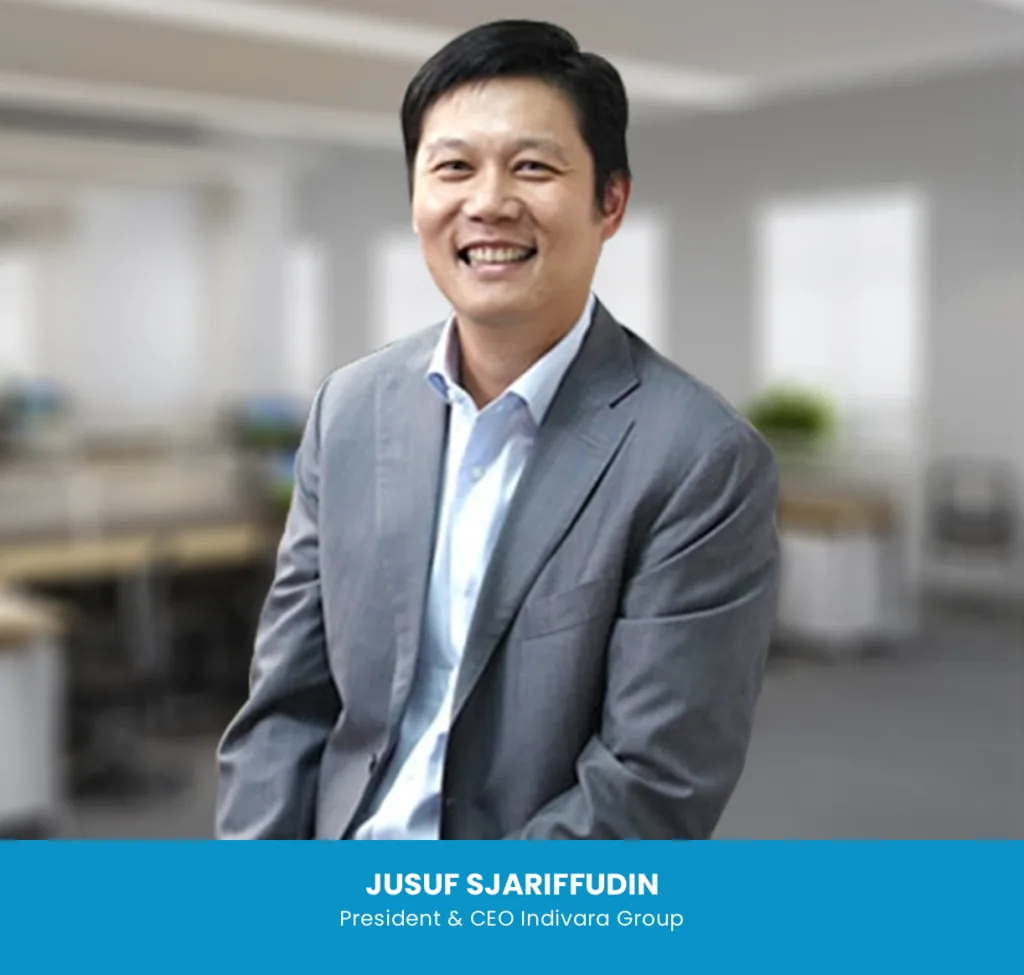 FEW WORDS ABOUT US
Our Great Story
The Stories Begins - PT. Jati Piranti Solusindo Established
PT. Jati Piranti Solusindo (Jatis Solutions) is an Indonesian leading e-solutions provider which has served hundreds of clients across the ASEAN region. Jatis Solutions provides Enterprise Application Integration as well as Professional Services complemented by consulting delivery and third-party partner product to rapidly deploy technology services to the customers.
PT Informasi Teknologi Indonesia Established
PT Informasi Teknologi Indonesia known as Jatis Mobile is a technology solution company, focused on messaging solutions and digital distribution, gaining market experience and insights since 2002. Jatis Mobile's client portfolio builds up to more than 500 corporate clients.
Indivara Group a Holding Company Established
After more than 15 years of experience in providing the best IT solutions to the ASEAN market. In September 2014, our founder and CEO established Indivara Group to penetrate the market with our complete capabilities which are developing and providing the most advanced technology platform and world-class IT consulting and solutions to the market.
Collaborate with BIPROGY.Inc formerly known as Nihon Unisys. Ltd (Japan)
Indivara Group and BIPROGY Inc (formerly known as Nihon Unisys, Ltd.) one of the largest technology consulting and services companies in Japan build a strategic partnership to jointly pursue opportunities across South East Asia by establishing Indivara Sejahtera Mandiri, a holding company for all Enabler Businesses Division of Indivara Group.
Tie-Up with AYALA Corp. to Give the Filipinos Broaden Digital Experience
Indivara Group form a strategic partnership with Ayala Corporation, one of the oldest and largest conglomerates in the Philippines. The two companies are forming a joint venture (JV) to provide an integrated payment and reward ecosystem in a single platform for the Philippines' enterprises.
Cartera Inc. (name of the JV) will enable every enterprise to have its own e-wallet. Either in embedded or standalone mode, their wallet will be integrated with loyalty exchange which could be used across merchants in Ayala's network. The wallet also enables a user to link their various bank accounts to allow them to do a transaction using their bank account balance.
PT Informasi Teknologi Indonesia (Jatis Mobile) Goes Public
Confirming the company's vision to become a dominant and sustainable market leader for complete messaging solutions (WhatsApp, SMS, and email), application development (chat commerce, custom development, AI and Chatbot, and digital distribution in Southeast Asia.
OUR CORE VALUE
PRIDE
PRIDE stands for Professionalism, Respect to Others, Innovation, Determination and Entrepreneurship. These Core Values are a milestone in strengthening work culture.
Professional
Professionals means dependable and reliable while fulfilling assignments on time that provide high quality result.
Respect to Others
Teamwork requires cooperative and coordinated work to accomplish a joint outcome. respect for others includes respecting diverse ideas and welcoming open communication.
Innovation
We always passionate to execute an idea which addresses a specific challenge and achieves value for both the company and customer
Determination
We have the strength to keep doing what we do best continuously, deliver the best results to the stakeholders is always our first priority.
Entrepreneurship
Indivara Group are encouraging all of its members to be an independent, creative, innovative, responsible, disciplined mentality, and not giving up easily persons.